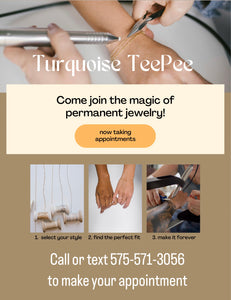 What is Permanent Jewelry? 
Simply put, permanent jewelry is jewelry that you can't take off. Rather than closing a bracelet or necklace with a traditional clasp, we weld the two ends together. The whole process is painless and only takes a few minutes. They are completely customized and you can pick your chain and add gemstones, beads. or diamonds. We can do bracelets, anklets, rings and necklaces. They're fun to get done with friends, siblings, family, sorority sisters, or just for yourself!
Book Now
GET VIP ACCESS
Download our app for exclusive in-app collections and pre-sales, as well as early access to all of our new arrivals.
Download Here